Professor Michael D.C. Drout,
Professor English,
Wheaton College
Norton, Massachusetts
Professor Drout received his Ph.D. in medieval literature from Loyola University in 1997. He also holds M.A. degrees from Stanford (journalism) and the University of Missouri-Columbia (English literature) and a B.A. from Carnegie Mellon. Professor Drout was awarded the Faculty Appreciation Award for teaching by the Wheaton College class of 2002. He is the editor of J.R.R. Tolkien's Beowulf and the Critics, which won the Mythopoeic Scholarship Award for Inklings Studies for 2003. His most recent book, How Tradition Works: A Meme-Based Poetics of the Anglo-Saxon Tenth Century, will be published by Arizona Medieval and Renaissance Studies in 2005. Drout is one of the founding editors of the journal Tolkien Studies and is editor of The J.R.R. Tolkien Encyclopedia, which will be published by Routledge in 2006. Drout has published extensively on medieval literature, including articles on William Langland's Piers Plowman, the Anglo-Saxon wills, the Old English translation of the Rule of Chrodegang, the Exeter Book "wisdom poems," and Anglo-Saxon medical texts. He has also published articles on Ursula Le Guin's Earthsea books and Susan Cooper's Dark Is Rising series of children's fantasy novels. Drout has written an Old English grammar book, King Alfred's Grammar, which is available for free at his website, www.michaeldrout.com. He has given lectures in England, Finland, Italy, Canada, and throughout the United States.
Michael Drout leads the following sojourns:
Anglo-Saxon Britain
Shakespeare in Depth
News & Updates: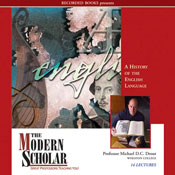 Drout Receives Prestigious Nomination
Professor Michael Drout's recent series of audio recordings titled History of the English Language has received an Audie Award™ nomination in the category of 'Best Original Work' from the Audio Publishers Association. Drout, who is leading two sojourns this summer (Anglo Saxon Britain and Shakespeare in Depth), recorded the lectures for Recorded Books as part of the Modern Scholar series.    Audie Awards™, the premier awards program in the United States recognizing distinction in audiobooks and spoken word entertainment, are presented each year by the Audio Publishers Association at their annual gathering which coincides with Book Expo America.  This year's award ceremony will be held on May 25 in New York City.  Scholarly Sojourns joins multitudes of Professor Drout's fans in congratulating him for being recognized with such an honor and we wish him the best of luck on May 25!